Imagination will often carry us to worlds that never were. But without it we go nowhere.
Wouldn't it be great to have your very own "backyard getaway" just steps from your main house? That's the beauty of both Ancillary Dwelling Units (ADUs) and Backyard Getaways.
What's the difference between the two? Depending on your property zoning, setbacks, and allowable density, you'll most likely be able to easily have one or the other. An ADU usually is something meant as a habitation unit, in that it has a bathroom and kitchenette (functioning plumbing). The most common example would be as an in-law guest house.
A Backyard Getaway on the other had, is more akin to an "expansion" of space outside of the main home. These take the form of home offices, libraries, pottery and gardening cottages, yoga studios and gyms, zen lounges, smoking rooms and humidors, the "man cave" (or woman cave for that matter), and more.
"The sky is truly the limit with what we can design and build for you, but rest assured you're going to love the added space, improved lifestyle, and overall "coolness factor" both ADUs and Backyard Getaways bring to your home."
What is the typical size and feature-set of an ADU? Being that an ADU is a dwelling unit and typically offers a kitchenette and bathroom, sizes run slightly larger than a Backyard Getaway but feature equally high-end fit and finish. Our clients' average ADU size is roughly 450sf.
What is the typical size and feature-set of a Backyard Getaway? Like the ADU, our clients typically choose very high-end fit and finish. Without the kitchen area and bath areas (or sleeping loft if the ADU is so equipped), the average size diminishes slightly to around 300sf.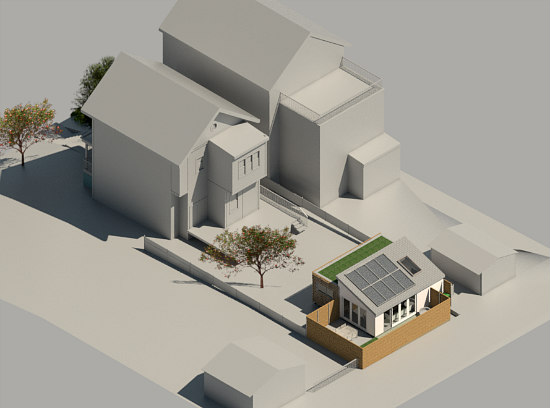 Increases Property Value
Great Option For Work-At-Home
A Personal Private Retreat
Cost Effective Added Space
Infinite Design Possibilities
Fast Construction
Green & Eco-Friendly Options
Your Backyard Will Never Be The Same
The ADU, Backyard Cottage (or "Granny Flat" as they're often referred) can take on many sizes and shapes. While the most common use if for a backyard office, it is indeed becoming a growing trend to consider renting out your backyard cottage on such platforms as AirBnb. Just take a look at these recent nightly rates! Rented for half the year could certainly make a huge impact on your investment!
View The Gallery
Floor Plan Ideas